Mr. Magichead's Hilarious Birthday Party Magic Show
What you get: An interactive 45-50 min. high-energy kids comedy-magic show narrowly aimed at ages 4-9, featuring the appearance of a (very tame) live rabbit.
The birthday party show is followed by 5-10 min. bunny petting and photo opportunities. Among the highlights of this quickly-paced costume-character performance are a starring role for the birthday person, lots of ludicrous predicaments, and loads of surprising magic that will mystify even the most sophisticated grown-ups. This birthday performance is self-contained, can be set-up just about anywhere and does not require a great deal of space.
What you will see: Young children sitting in one spot for close to an hour! Everyone laughing at the bumbling magician in the wacky costume. Constant looks of amazement.
What you will hear: Thunderous applause, squeals, screams, oohs, aahs, whoas and laughter.
Why it's special: The Mr. Magichead show is hilarious, surprising and original combined with tons of energy and experience.
How Much? $295.00*
*plus $0.50 per mile round trip travel fee. No travel fee in Worcester MA & surrounding towns of Shrewsbury, Grafton, Millbury, Auburn, Leicester, Paxton, Holden, West Boylston and Boylston.
How this works: When you decide to book a show, we email you an agreement which you sign & return with a 50% deposit. Mr. Magichead arrives on-site 1 hr. prior to show time, and begins load-in 25 min. before show time.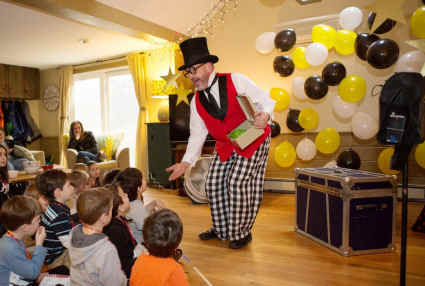 Technical requirements:
1. Party planners please note - Mr. Magichead has a "no grown-ups talking during the show" policy. If your birthday party plan includes adults socializing during the performance, the children's magic show must be presented in a separate, quieter space.
2. The show must be positioned in such a way as to prevent backstage or on-stage viewing of the performance. Against a wall or kitty corner often works best, but in any event there must be a straight line which extends from wall to wall, with the performer on one side and everyone else on the other side. Special arrangements can be made if this is not possible.
3. Mr. Magichead is committed to providing an outstanding performance for your young guests and therefore in the interest of "distraction reduction" we prefer that no food or beverages be served to the children just before or during the show, and suggest that balloons, goody bags and piñatas be scheduled after the birthday party magic show.
4. Outdoor shows can be staged where:
1. The sun will not be in the audience's eyes.
2. On a flat AND level surface.
3. With no backstage views.
Outdoor shows on sweltering days must be held in an area shaded for both the audience and performer.