Halloween & pumpkin/fall fest magic shows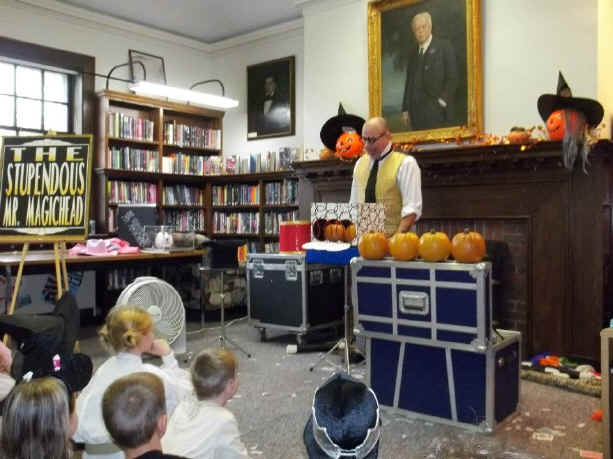 Pumpkin Act in action - Photos courtesy of Richards Memorial Library
Mr. Magichead's Squash of Mystery
or
Popular Professional Performer Proudly Presents Pleasing Pumpkin Prestidigitation
Book the world's only pumpkin comedy-magic act for your children's Halloween event this year and see your entertainment worries disappear!
See large crowds appear.
See pumpkins appear before your eyes, float mysteriously, then vanish into thin air. And more!
See your audience laughing and smiling like never before.
See yourself looking awesome for booking The Stupendous Mr. Magichead.

Hundreds of New England area schools, libraries, and recreation departments have put the "trick" back in trick-or-treat at children's Halloween events and harvest, pumpkin and fall festivals with an appearance by The Stupendous Mr. Magichead. Hilariously and narrowly aimed at children ages 4-9 & their families and emphasizing audience interaction, Mr. Magichead's high-energy comedy magic act features 50 solid min. of surprising and original hocus pocus culminating in the mind-blowing appearance of long-time partner Lulu, a black & white Dwarf rabbit. Performances starting at $295.00*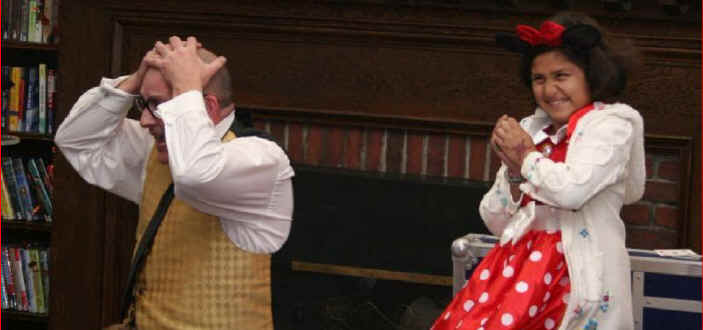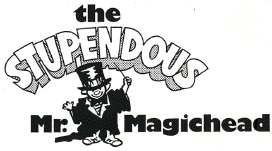 P.O. Box 1201 · Worcester MA · 01613 · PH 508-450-7110 · john@mrmagichead.com
Copyright © 2011 [John Sullivan]. All rights reserved.
Revised: March 02, 2020