Upcoming library performances! Haverhill Public Library Feb. 22, 2018 - Avon Public Library March 3, 2018 - Upton Town Library April 18, 2018
The
Stupendous
Mr.
Magichead
An
Accidentally
Funny
Magician


Paxton Library Halloween Party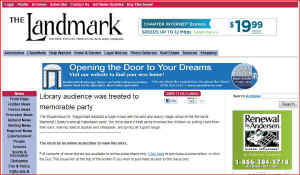 "The Stupendous Mr. Magichead amazed a huge crowd with his wild and wacky magic show at the Richards Memorial Library's annual Halloween party."
The magician for hilarious children's library magic shows! Library summer reading programs are guaranteed to begin (or end) with a bang this year when you "book" one of a kind children's entertainer/magician The Stupendous Mr. Magichead.
"I just wanted to take a moment today to thank you again for the great show you put on in Mendon yesterday! Raves from a lot of families, a lot of very positive feedback. It can be a risk when "stupendous" is part of your moniker, but the show was exactly that! Thanks for bringing the laughs and magic to Mendon."
Andrew Jenrich-Children's/YA Librarian Taft Public Library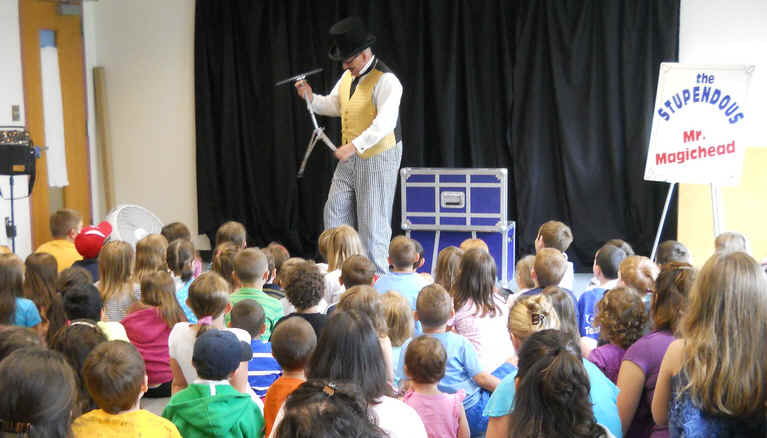 Packed house at Holmes Public Library June 24, 2011
Roaring laughter and standing room only crowds have been the norm at hundreds of Mr. Magichead shows at children's library events across New England.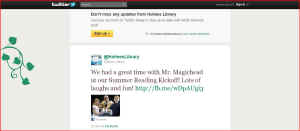 "We had a great time with Mr. Magichead at our Summer Reading Kickoff! Lots of laughs and fun!" via twitter from Holmes Public Library in Halifax, MA
At Halloween events, libraries can put the trick back in trick-or-treat with The Mr. Magichead Halloween Show featuring appearing pumpkins, floating pumpkins, and vanishing pumpkins!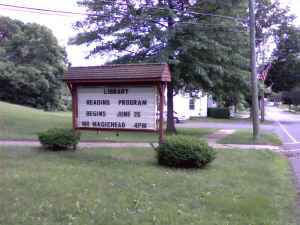 Recent library performances by Mr. Magichead include Dec. 28, 2017 for the Friends of the Southborough Library and Aug. 15, 2017 at Richard Salter Storrs Library in Longmeadow MA. Other recent library gigs include Dec. 27, 2016 in Sturbridge MA at Joshua Hyde Library.